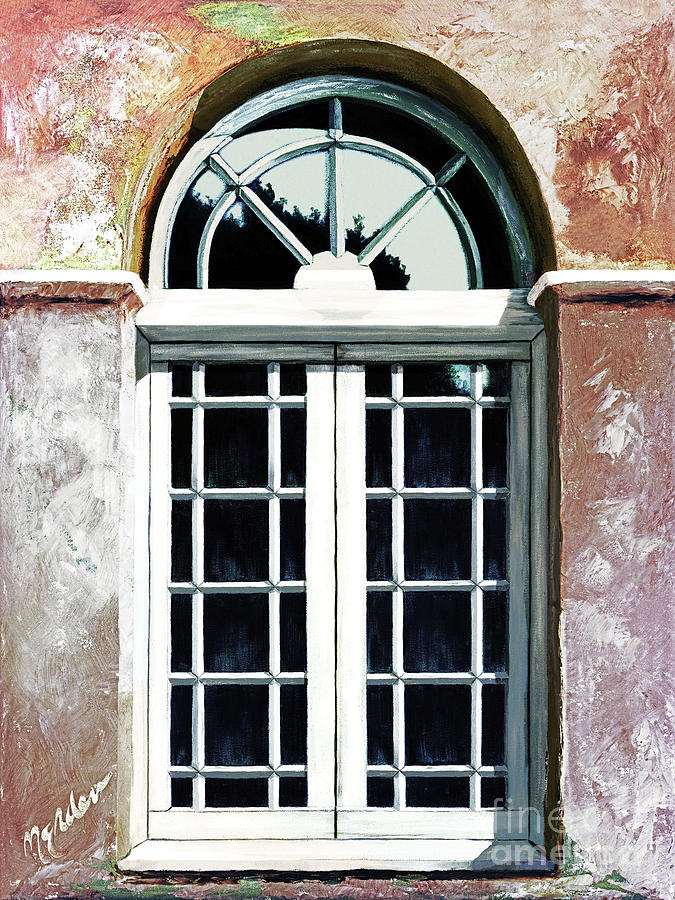 Dimensions
45.000 x 60.000 x 0.100 inches
This piece is not for sale. Please feel free to contact the gallery directly regarding this or other pieces.
Click here to contact the gallery.
Title
Reflections of Old, prints,products oil painting
Medium
Painting - Oil On Canvas
Description
The Original Oil Painting, "Reflections of Old," is sold, but prints and products displaying my painting in Print are available here. All Originals are viewed and sold showing you extra images at BaywoodGallery.com (copy/paste or type and open a new browser alongside this one).

This old window with its textured surround was painted in oils using knife and brush, weathered and old, but still beautiful. It is sheer fun painting 'old' with a knife because it tells a story with its bold strokes imitating the master strokes of the craftsman who first created the surround. The reflection of the trees in the upper arch shows us what the eyes of the window see. This print from my original oil painting is available in large sizes. It is also available under my new collection just starting up "Large Prints in all Categories." Watermark in lower right of the image will not appear on any purchases.

BaywoodArtGallery.com is my artist website inside of Fineartamerica, this is why...........
If you see fineartamerica in the browser and left corner, you are on the main site of
fineartamerica just as you expected to be. However, if you use the search bar or menus
on these pages, you will lose my Art. Fineartamerica gives each Artist a "website,"
inside Fineartamerica. On my artist website, BaywoodArtGallery.com you can view my
work in one place and you are still buying from Fineartamerica. On my artist website,
BaywoodArtGallery.com you will see MORE of the products featuring my art and all
are formatted by me. Please take a moment to visit my website inside at.....................

BaywoodArtGallery.com

If you order prints on Paper, may I suggest using Archival Watercolor Paper, as it is
proven to be an excellent substrate for printing my work, and it is what I use to print
my paper, Standard size prints at my other, Online, website shown below. I do not
crop my work for Standard Size Prints but I am able to format them to fit many
standard sizes. Look for them soon, here and on........................................................

BaywoodGallery.com

Above is my other website without the word "ART" in the middle and my original online
gallery that I have maintained for over 20 years, and was, once, a street gallery. I will,
in February, 2023, again, start printing my standard size prints (those sizes you would
you would like to frame yourself, or use an existing frame you cherish). Just let me
know the size and the print or prints you would like printed. I will have the sizes,
posted there soon and begin listing standard sizes. Contact me with any questions.
Open two browsers, have some fun....toggle between links on ...............................

BaywoodGallery.com
to come back to....................................
BaywoodArtGallery.com

Watermarks that appear in the lower right corner of my fine art images are there to
help deter theft of Fine Art and are removed before printing. Please request signed
Certificates of Authenticity for any print that is made with my permission, open and
limited edition series, after purchase. All of my work, Originals, Prints and products
are protected under United States and International Law. Any reproduction of my
work, in anyway without first, obtaining written permission from me, Mary Grden, is
prohibited. "About Me," has a bit more of my history.

Uploaded
March 18th, 2023
Statistics
Viewed 767 Times - Last Visitor from Shenzhen, 30 - China on 06/03/2023 at 5:08 AM