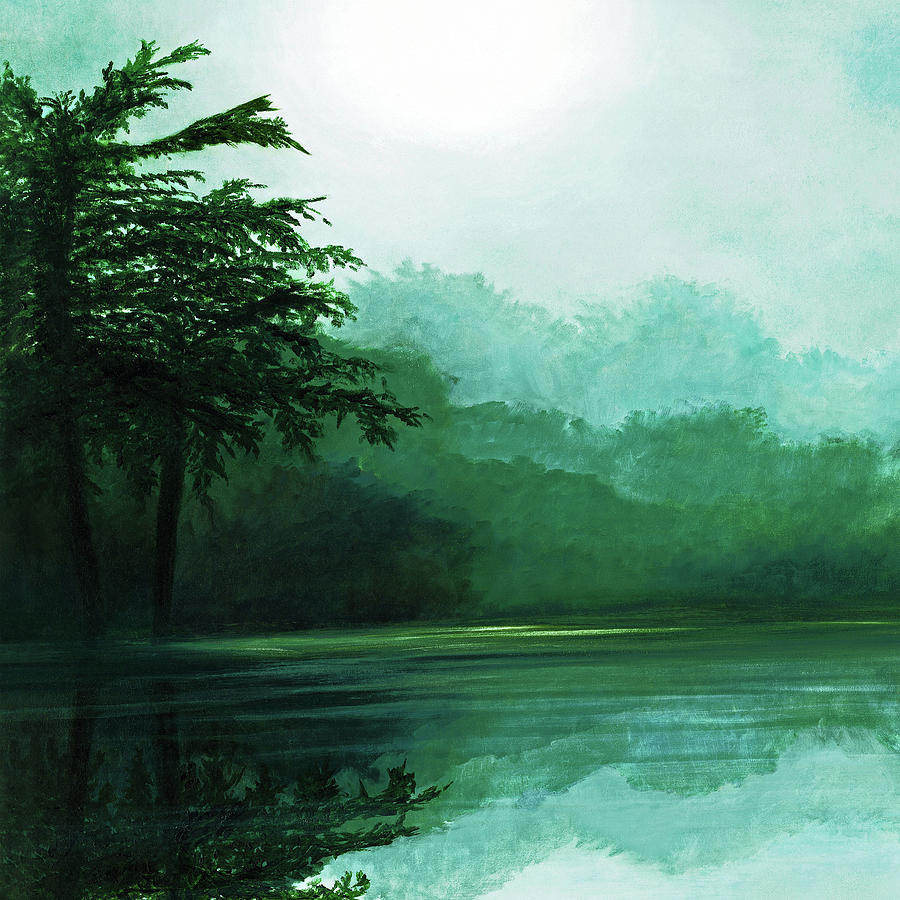 Title
IN THE MISTY MORNING Prints-Decor-More - view 2 of 32
Medium
Painting - Oil On Canvas
Description
This is a separate Print available as "view 2 of 3", of the original oil painting, named: "In the Misty Morning Morning." I have created two additional views or portions of the original painting (Print) for additional Wall Prints, so they may fit many sized rooms and items of Decor like Pillows and other smaller items. Vertical or taller images are sometimes harder to fit on wider surfaces, but I can usually format them to fit pleasingly. Choose or mix and match, Pillows, Duvets, gifts from any listing. I just started, so it may take some time, but if you have an idea, let me know what you are thinking and maybe we will come up with a very special idea of your own. The Original Print listing will contain my original inspiration or description of the Original Oil Painting. If you need help, contact me I am delighted to help you and no extra fee is attached to do so.

If you found me on fineartamerica and you want to see all my art, without losing me, please go to my Artist's website, here, at: BaywoodGallery.Pixels.com You can see ALL my Prints and ALL the items they are printed on and use the Menus, without losing me. Please consider "following."

The main pages of fineartamerica are designed for searching. You can search fineartamerica for me by search>Artist>Mary Grden My BaywoodGallery.Pixels.com is searchable on the internet as an internet address, oh yes, it's entirely "bookmarkable" and you can "follow us" or contact us. My newest Gallery Artist is John, my husband.

I am a self-taught Artist who began painting forty years ago in a form of Realism. Oil painting is to me, much like writing is to an author, 'once the painting is complete many more than one can enjoy. "Teaching yourself everything can be a long road, and what a journey to learn with God's blessing every step of the way. The measure of success is the love or the passion you have for what you do and without it, an Artist can lose their way. I taught myself archival Printing, and website design and maintenance, too.

I mix all my colors, rarely taking them straight from the tube. Mixing colors to create shadows for the sides of a building to oppose the front tells us if the sun is to rise or set. Perspective is enhanced with many color values as well, allowing us to see the realistic view of an open window, door, winding paths, steps, water and so much more. Composition can be difficult to perceive, and I am grateful that it came to me naturally.

My name is Mary Grden, my Artist Website, here, is: https://baywoodgallery.pixels.com/ or baywoodgallery.pixels.com

BaywoodGallery.com is my website where I sell my Original Oil Paintings-securely and show you bonus (enlargements of images-prints-paintings) There are links on BaywoodGallery.Pixels.com for BaywoodGallery.com and a special banner (link) to see all my original oil paintings on BaywoodGallery.com

My last name would be "garden" but my garden does not have an apple or "a." "Grden" is said. 'Grrrden .' All of my work is Copyright Protected, Mary Grden, Artist under United States and International Law. Reproduction of my work in anyway without first, obtaining written permission from me. is prohibited. "My websites" my name and my Art, "are all as one and one in the same.'

Watermarks that appear in the lower right corner of my fine art images are there to help deter theft of Fine Art. (see below about Copyright). It will be removed before printing. I have always issued Certificates of Authenticity on my prints Open and Limited-Edition Series. I can mail you one postage paid or if you prefer, text, or email with my signature.


Statistics
Viewed 3,261 Times - Last Visitor from New York, NY on 12/05/2023 at 5:47 AM